We invite you to
take a look at London
Thank you for considering London and Laurel County, Kentucky – one of the fastest growing, most progressive areas in the country. One of thirteen micropolitan areas in the Commonwealth of Kentucky, as determined by constant annual growth, medical facilities, educational and business opportunities, our ideal location, quality workforce, low utility rates and positive economic climate are strong factors to Laurel County's success.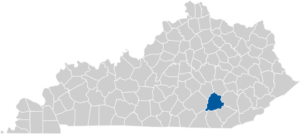 We're positioned strategically on Interstate 75 with four-lane Interstate exits 41, 38 and 29 North and South; the Hal Rogers Parkway and Russell Dyche Highway, East and West. London is within 600 miles of fifty-one percent of the retail sales markets in the United States. Explore our website and certified build-ready sites to discover how our available properties and buildings, business incentives and workforce statistics make us an ideal region for businesses looking to expand.
Or explore quick facts below.
London and Laurel County
How do we measure up?
Industrial Electric Cost Per KWH, 2017
Kentucky $0.0558
U.S. $0.0691
Laurel County Statistical Summary
Population 2020 Laurel County: 62,613
Labor Market Area: 351,250
Laurel County
Per Capita Personal Income 2016: $32,730
Median Household Income 2016: $36,139
Median Home Price 2017: $115,250
Unemployment Rate 2021
Laurel County: 3.2%
U.S.: 3.4%
Average Weekly Wage 2017
Laurel County: $666
Labor Market Area: $682
U.S.: $1,042
At the crossroads of
Opportunity
We invite you to look at London! Reach out today: