Funding has been secured to extend sewer lines to the new Rowland Acres Industrial Park on Ky. 192, thanks to the generosity of the city and county governments.
The extension will also bring sewer closer to large residential areas off of Ky. 192 in a second phase.
Total cost of sewer extension is $696,500. The Laurel County Fiscal Court pledged $339,113 to the project, as part of the more than $2 million in water and sewer grants announced in a visit by Governor Andy Beshear on April 11.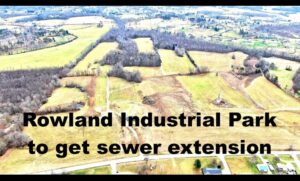 The London City Council pledged the remaining $357,252 to complete the project at its regular monthly meeting on Monday night
The funds,which come from the American Rescue Plan Act and the Clean Water Act, will be transferred to the London Utility Commission for construction of the sewer extension.
"We've got four RFI's (Request for Information) out, four different companies eyeballing the property, but we can't convey until we get utilities run to the park," said Paula Thompson, executive director of the London-Laurel Economic Development Agency.
Phase 1 of the extension will bring sewer down Ky. 363, where it will turn right onto McGill-Wyan Road and enter through the back of the industrial park. Phase 2, which is in the planning stages, will bring sewer to residential areas at Mallard Point, Combs Circle and along Parker Road.
"I think it's a wonderful opportunity and advancement for our community to get this extension," Thompson said. "It will help us in the recruitment of a large company, and also help the residents in the area get off septic systems."